Cardiology Patient Simulator "K" ver.2
Product Supervision:
Japanese Educational Clinical Cardiology Society,
Toshio Amano, Masaya Kino, Takaharu Saito, Tsunekazu Takashina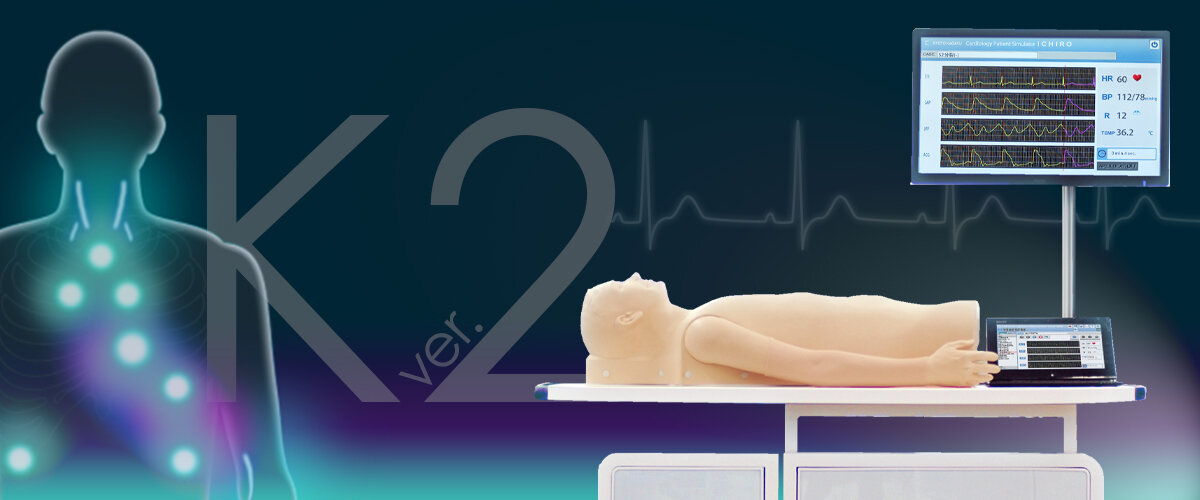 Hone your senses and skills for bedside cardiology Cardiac assessment training for all healthcare providers
SKILLS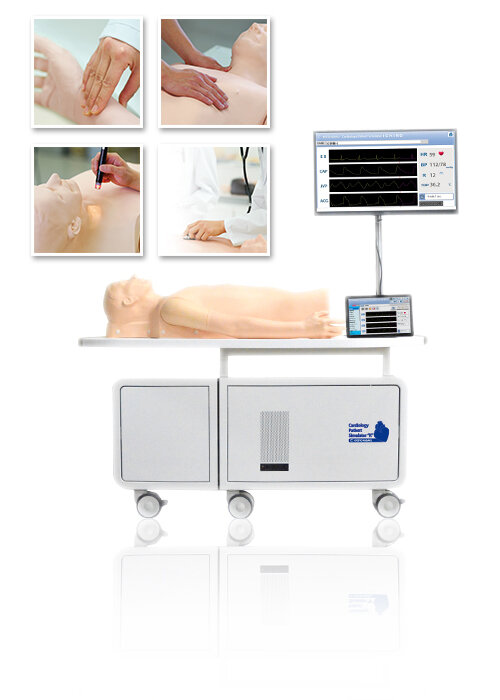 Use of stethoscope:
A real stethoscope can be used
Heart Sounds and Murmurs
Auscultation in relation to synchronized electrocardiograms and findings.
-differentiation of S1, S2, S3 and S4
-discrimination between systolic and diastolic murmurs
Palpation of arterial pulse at 8 sites:
Slight variations of the arterial pulse waves under different cardiac conditions or arrhythmias can be detected by palpation
Observation of jugular vein pulses:
The strength and timing of "α "and "V" waves vary with cases
Palpation of Cardiac Impulses:
RV, LV and DLV are simulated and can be palpated
Real time dynamic charts on the screen:
-phonocardiogram
-sphygmogram (CAP/JVP/AC)
-electrocardiogram (ECG)
Respiratory Sounds and Abdominal Movement:
Respiratory cycle is represented to understand respiratory related phenomena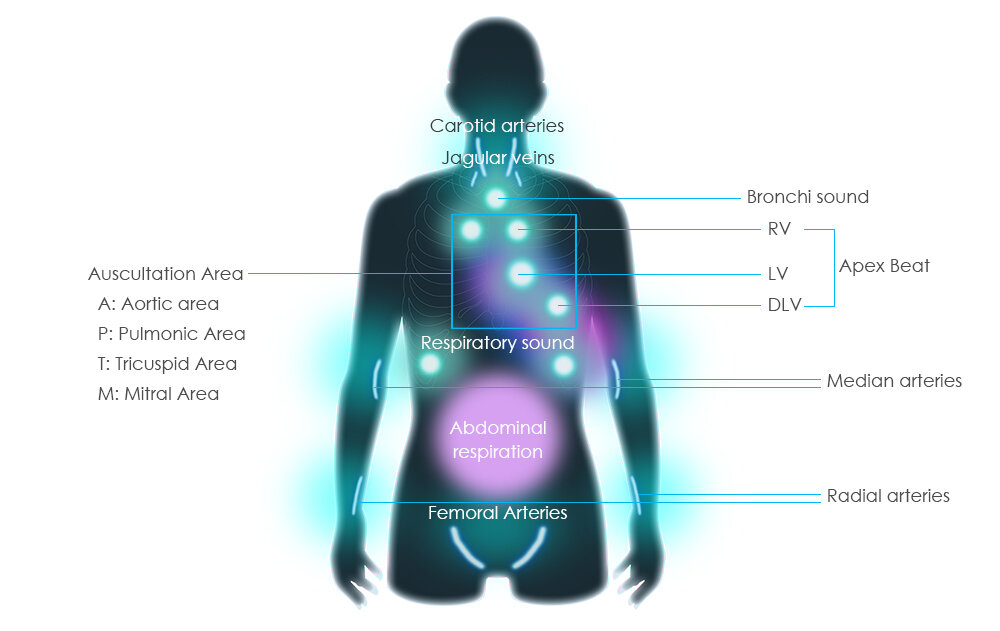 FEATURES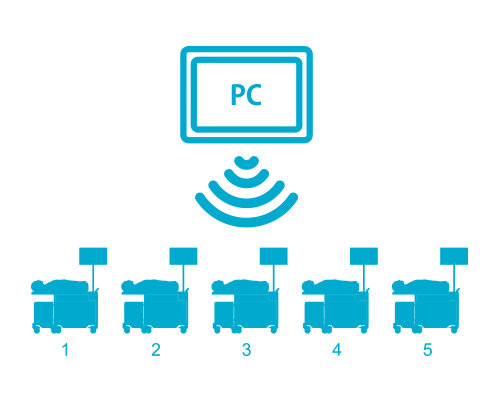 Simultaneous Control of Up to Five Units
The system realizes:
-scenario based training that involves more than one patients.
-learning with comparison between related or easy to be confused case examples
-skills assessment sessions with different cardiovascular stations.
Wireless Control for greater reality and interactive sessions
With the wireless tablet control, the instructor can be out of sight of trainees who work in real-life setting. At the same time, the tablet allows instructors to respond to trainee s action or lack of action, by changing the case settings on the spot.
Play List Maker
Simulator "K" is not just for individual task trainings. Incorporated "Play List Maker" facilitates creating and conducting scenario based training sessions which feature change in findings over time
Choose up to 10 cardiac cases from 88 examples to make a playlist
Playlist Maker facilitate :
-sessions with accompany temporal change in physical findings
-standardizing training contents among different instructors
-saving time of preparation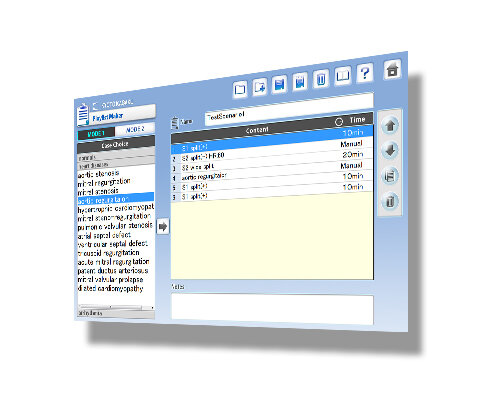 Ensure the skills and integrate findings
Real-time dynamic chart confirms what you are listening or feeling. Explanation windows facilitate self-learning and repeated training
Dynamic Charts of Electrocardiogram (ECG), Jugular Venous Pulse (JVP), Carotid Arterial Pulse (CAP) and Apex Cardiogram (ACG) can be displayed. Each chart can be freeze-framed for in-depth learning. Case explanation windows for self-directed learning are provided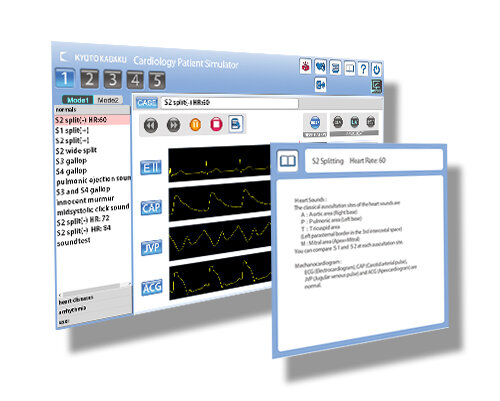 Basic Functions
Wide variety of the examples
Simulator "K" contains 88 cases; 12 cases of normal heart sounds, 14 cases of heart disease simulations, 10 cases of arrhythmia simulations and 52 cases of ECG arrhythmia simulations
Real sounds, real instruments, real anatomy
Sounds are recorded from actual people and reproduced using a high quality sound system. An actual stethoscope can be used. Auscultation sites corresponding to heart valves are located precisely on a life-size manikin body molded from an actual person
Obtaining reliable auscultation skills
Auscultation is a fundamental approach to cardiac patients, performed widely from general practitioners to cardiologists. Repeated practice is a necessity for learners to differentiate various heart sounds and murmurs. However, opportunities to learn with real patients are limited and could be insufficient. Simulator "K" offers hands-on experience in a diversity of cases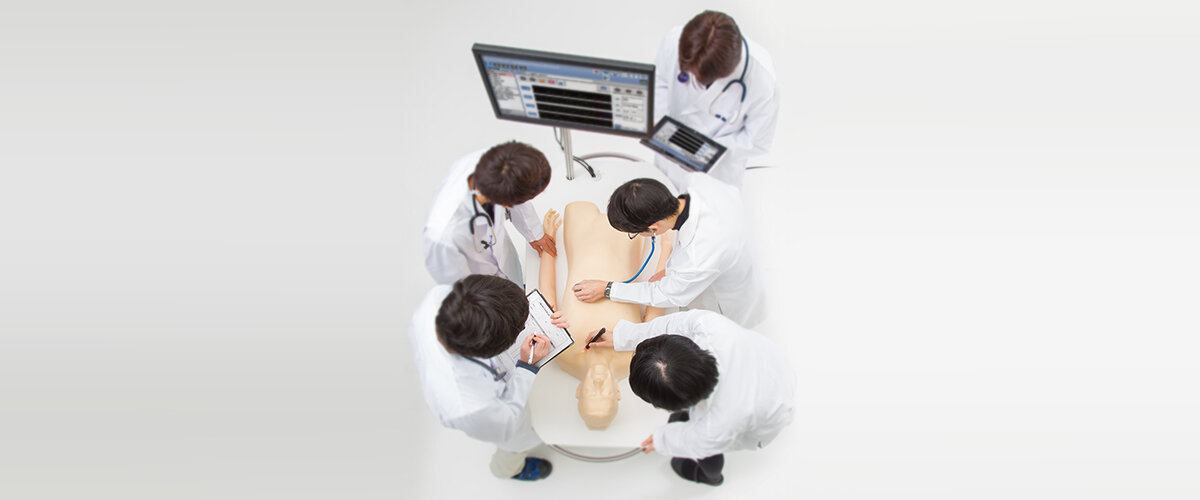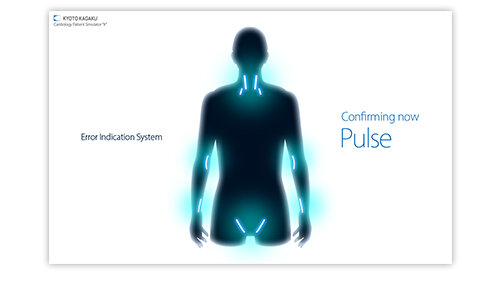 Error Indicator
The error indicator facilitates maintenance of the system to keep Simulator "K" units always at its best condition. Troubles and errors in speakers, pulses and apex beats are warned on screen. History of system conditions is automatically recorded for reference
CASES
Normal heart simulation (12 cases)
S2 split (-) HR: 60 / S1 split (+) / S2 split (+) / S2 wide split / S3 gallop / S4 gallop / pulmonic ejection sound / S3 and S4 gallop / innocent murmur / midsystolic click sound / S2 split (-) HR: 72 / S2 split (-) HR: 84
Heart disease simulation (14 cases)
aortic stenosis / mitral regurgitation / mitral stenosis / aortic regurgitation / hypertrophic cardiomyopathy / mitral steno-regurgitation / pulmonic valvular stenosis / atrial septal defect / ventricular septal defect / tricuspid regurgitation / acute mitral regurgitation / patent ductus arteriosus / mitral valvular prolapse / dilated cardiomyopathy
Arrhythmia (10 cases)
sinus arrhythmia / sinus tachycardia / sinus bradycardia / ventricular premature contraction (1) / ventricular premature contraction (2) / ventricular premature contraction (3) / sino atrial block / atrio-ventricular block / atrial fibrillation / atrial flutter
ECG: Arrhythmia simulation
normal sinus R / sinus tachycardia / sinus arrhythmia / apc solitary / apc bigeminy / ectopic pacemaker / wondering pacemaker / coronary sinus R / sinus bradycardia / ss syndrome / atrial fibrillation / atrial flutter / atrial flutter fib / atrial flutter / av block / av block & crbbb / av block (digital) / av block (mobitz) / av block (mobitz) / av block (3:1&4:1) / av & crbbb / paroxy atr tachy / av junc R (svst) / av junc R (pat) / av junc R / av junc contraction / V VI pacemaker / atrial pacemaker / vent pacemaker / av seq pacemaker / icrbbb / crbbb / clbbb / clbbb / clbbb (by ami) / wpw syndrome / wpw syndrome / wpw syndrome / vpc (solitary) / pc (quadrigeminy) / vpc (trigeminy) / vpc (bigeminy) / vpc (couplet) / pvc (repetitive) / pvc (R-on-T type) / non-sustained VT / vent tachycardia / vent flutter / vent fibrillation / vent R (sinus cond) / accel vent rhythm / agonal rhythm
Proven and trusted all over the world
Simulator "K" has been used in many medical schools, hospitals, and also nursing colleges all over the world. More than 500 facilities have installed the model. In South Korea, it is used for national examination OSCE to become medical doctors.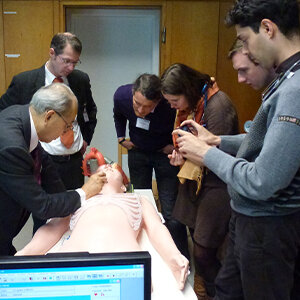 Mr.K Symposium in Germany
Japanese-German Meeting on Cardiology Simulation in Medical Education
November, 2011 in LernKlinik, Leipzig University
Presentación del simulador Paciente cardiológico "K" in Spain
Octover, 2006
in FICOMEM (La Fundación del Ilustre
Colegio de Médicos de Madrid) para la Educación y Formación Sanitaria,
Madrid