SDGs
SUSTAINABILITY
EQUADOR
Kyoto Kagaku's SDGs update
You may have heard the acronym "SDGs" recently. We would like to report on Kyoto Kagaku's SDGs and their progress.
What is SDGs?
Sustainable Development Goals
The Sustainable Development Goals (SDGs), also known as the Global Goals, were adopted by the United Nations in 2015 as a universal call to action to end poverty, protect the planet, and ensure that by 2030 all people enjoy peace and prosperity.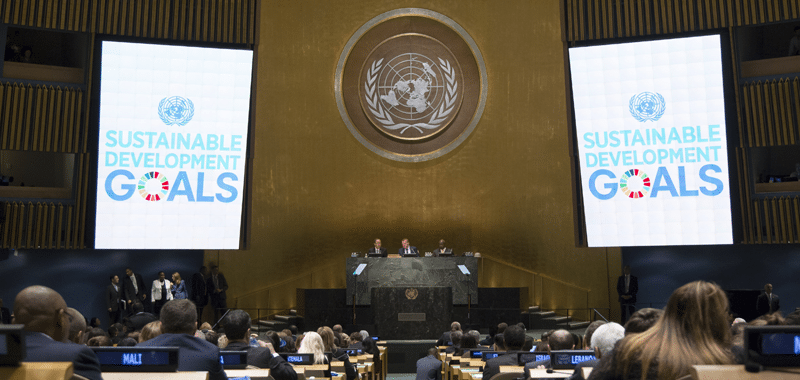 The 17 SDGs are integrated—they recognize that action in one area will affect outcomes in others, and that development must balance social, economic and environmental sustainability. (cited June 2021 from https://www.undp.org/sustainable-development-goals)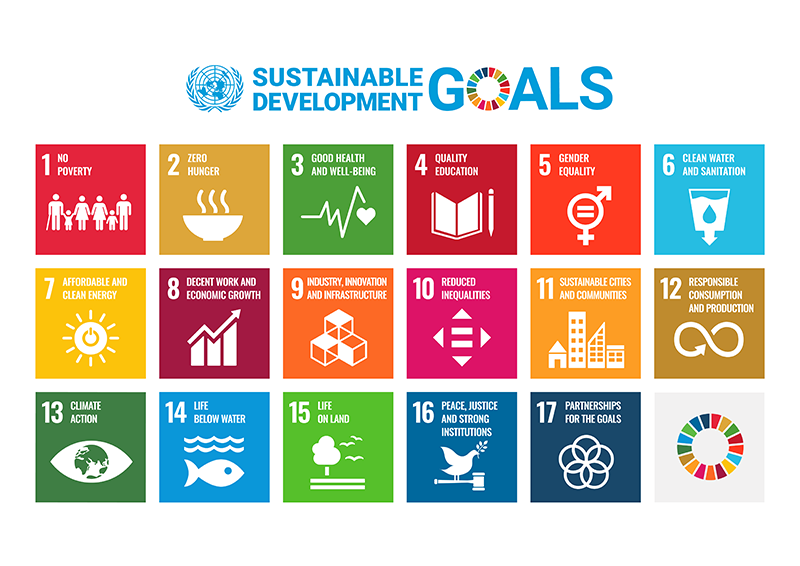 What are "KYOTO KAGAKU SDGs"?
Contributing to the Cultivation of Healthcare Personnel in Ecuador
We started this project in 2018.
Our proposal for "Strengthening Human Resources for Universal Health Coverage*1 in Ecuador by Promoting, Verifying, and Commercializing Simulation-Based Medical Education" was selected by the Japan International Cooperation Agency (JICA) as one of its SME/SDG business support projects for 2018. Universal health coverage means "to ensure that all people can receive the health services they need at an affordable cost" and it is a core part of SDG Goal 3 (health and welfare).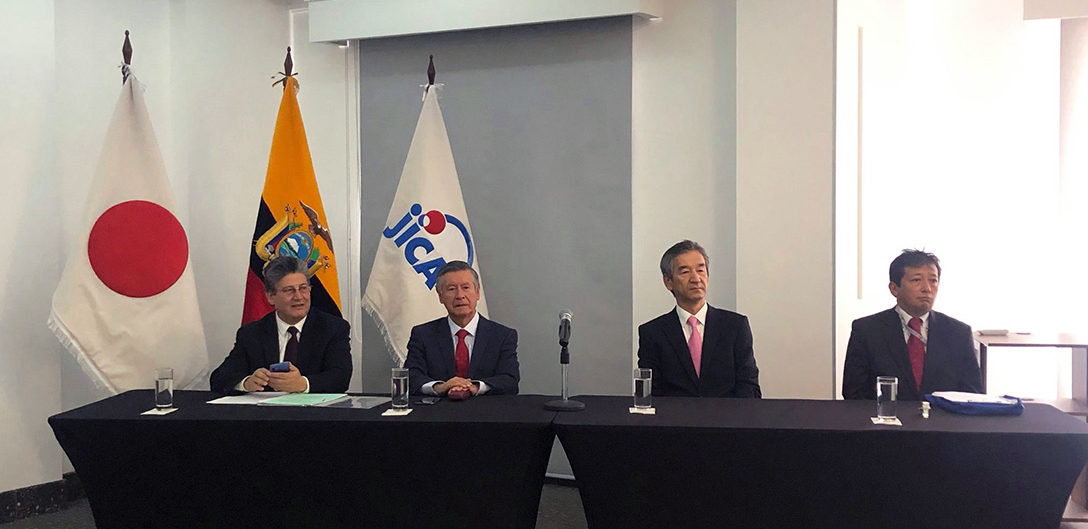 Background:
The Ecuadorean government is currently working to realize universal health coverage and reduce disparities in healthcare. However, to do this, it needs highly-skilled healthcare professionals and to cultivate personnel who can handle a wide range of changing health situations.

---
*1 Universal Health Coverage
Universal health coverage means that all people have access to the health services they need, when and where they need them, without financial hardship. It includes the full range of essential health services, from health promotion to prevention, treatment, rehabilitation, and palliative care. UHC is recognized as a unifying platform for making progress on Sustainable Development Goal 3 for health.
PRESS CONFERENCE IN ECUADOR
June 10th, 2021
The first press conference was held on the arrival of the first delivery of the Kyoto Kagaku simulators at the Central University of Ecuador as part of the UCE-JICA-KYOTO project.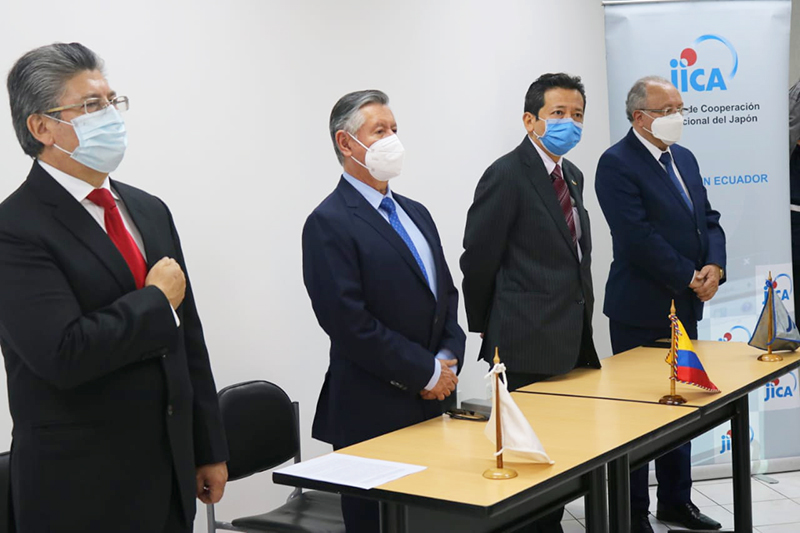 With the participation of the Rector of the Central University of Ecuador, Dr. Fernando Sempértegui, the Dean of the Faculty of Medical Sciences, Dr. Ramiro Estrella, the Director of the Medical and Robotics Simulation Clinic, Dr. Ángel Alarcón, the Representative Resident of the JICA Office in Ecuador, Mr. Takeo Ishikawa, and with the online participation of the president of Kyoto Kagaku, Mr. Toshi Takayama, among other attendees, a press conference was held to show the first models that arrived at the Faculty of Health Sciences of the Central University.
After the presentation, the attendees had the opportunity to feel and test with their own hands the quality and realism of the Kyoto Kagaku Simulators, such as the Cardiology Patient K Ver.2, the lung sounds trainer LSAT Ver.2, and the Lumbar Puncture Simulator among others.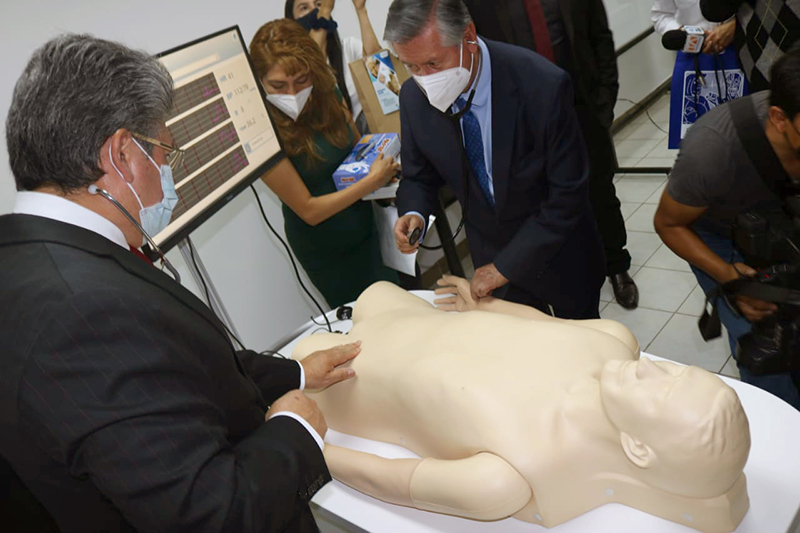 The delivered products include;
MW10 Cardiology Patient Simulator "K" ver.2
MW28 Lung Sound Auscultation Trainer "LSAT" ver.2
M55 Physical Assessment Simulator "Physiko"
and over 30 simulators!
With a participation of around 30 attendees, limited by social distancing in pandemic times, the event was covered by a prestigious television station that broadcast the event. A second shipment is being prepared to be shipped soon.
Roadmap of Kyoto Kagaku SDGs
We want to support its efforts by contributing to the training of healthcare professionals who can make an immediate impact. Therefore, we are using Kyoto Kagaku medical education simulators to create an environment for practical training in the country, realizing simulation-based medical education that reflects actual conditions.
Test period
December 2019 - January 2023
Examinee
Central University of Ecuador(UCE)
Roadmap

Actions
Kyoto Kagaku Simulators × Scenario development in accordance with the medical education curriculum in Ecuador.
Practical simulation with its scenario
Learning effect evaluation and improve
Continuous development of human resources
Bring familiarity to simulation in South America using our products
Message from project team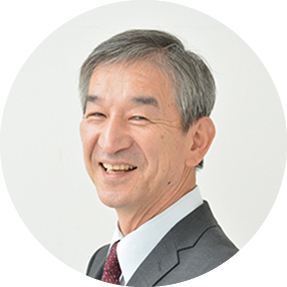 My desire is that the enhancement of medical education with simulators aimed in this JICA project, is not limited to Ecuador, but it expands all throughout Latin America.
On the other hand, in Japan, special attention to environmental preservation, and continuous effort to eliminate plastic waste, which is the main raw material of our products, will be our main theme.
Spanish: Mi deseo es que el fortalecimiento de la educación médica con simuladores buscado en este proyecto de JICA, no se limite sólo a Ecuador, sino que se expanda por toda Latinoamérica.
Por otro lado, en Japón nuestro principal tema será poner una especial atención en la preservación ambiental, y el esfuerzo contínuo para reducir desechos de plástico, la materia prima principal de nuestros productos.
Toshi Takayama, President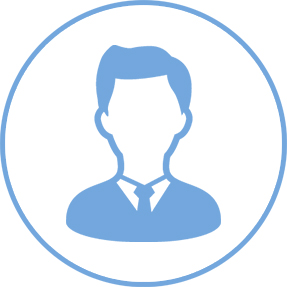 Through this Project, we strive to standardize clinical simulation education in Latin America, to contribute in the achievement of universal health coverage by the improvement of health profesional capacities.
Spanish: A través de este proyecto, estamos trabajando en la estandarización de la educación con simulación clínica en Latinoamérica, de manera que podamos contribuir a lograr la cobertura sanitaria universal, mediante el mejoramiento de las capacidades de los profesionales de salud.
Local staff in Equador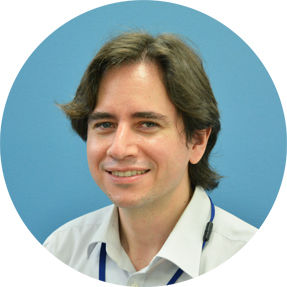 Let's work together so that this great project becomes an effective platform to motivate more and more people to use medical simulation!
Spanish: Trabajemos juntos para que este gran proyecto sea una efectiva plataforma para motivar a más y más gente a utilizar la simulación médica!
Meneses Cesar, staff from Japan
Conclusion
From December 2019 to January 2023, this simulation-based medical education is being carried out at the Central University of Ecuador's Faculty of Medical Science. We estimate that as a result, over 200 new doctors and nurses will graduate each year with the necessary skills. Once this trial period is completed, we plan to develop a simulation-based medical education business devoted to improving the quality of simulation-based education tailored to individual situations. In this way, we will continue to support personnel development.
We are very grateful to all the participants who, with their hard work, keep this project in continuous progress.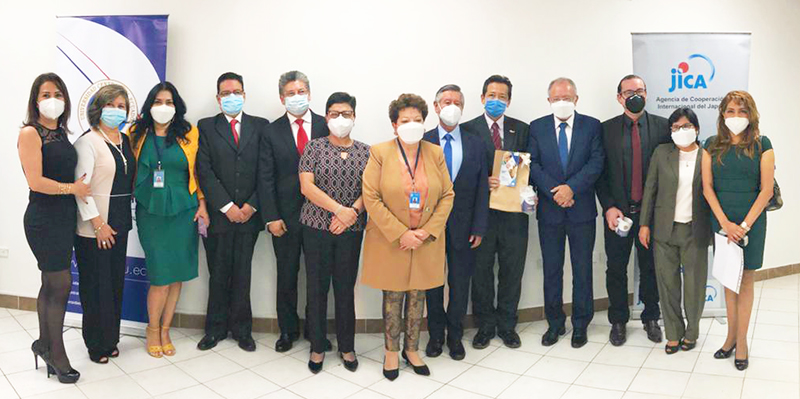 Reference:
"2030 agenda" retrieved June 18th 2021 from United Nations Information Centre website:
https://www.unic.or.jp/activities/economic_social_development/sustainable_development/2030agenda/
"Universal Health Coverage" retrieved June 18th 2021 from WHO website:
https://www.who.int/health-topics/universal-health-coverage#tab=tab_1 (cited June, 2021)
"Ensure healthy lives and promote well-being for all at all ages overview" retrieved June 18th 2021 from United Nations website:
https://sdgs.un.org/goals/goal3
---
Teleamazonas Ecuador