SIMULATION CENTRE
UNIVERSITY
GERMANY
The Opening of the New Skills and Simulation Center in Leipzig University

"LernKlinik"

Following the invitation of our valuable customer, Dr. Daisy Rotzoll, we attended the opening ceremony of Leipzig University's new skills and simulation center "LernKlinik Leipzig" on July 5th to represent Kyoto Kagaku at this festive event.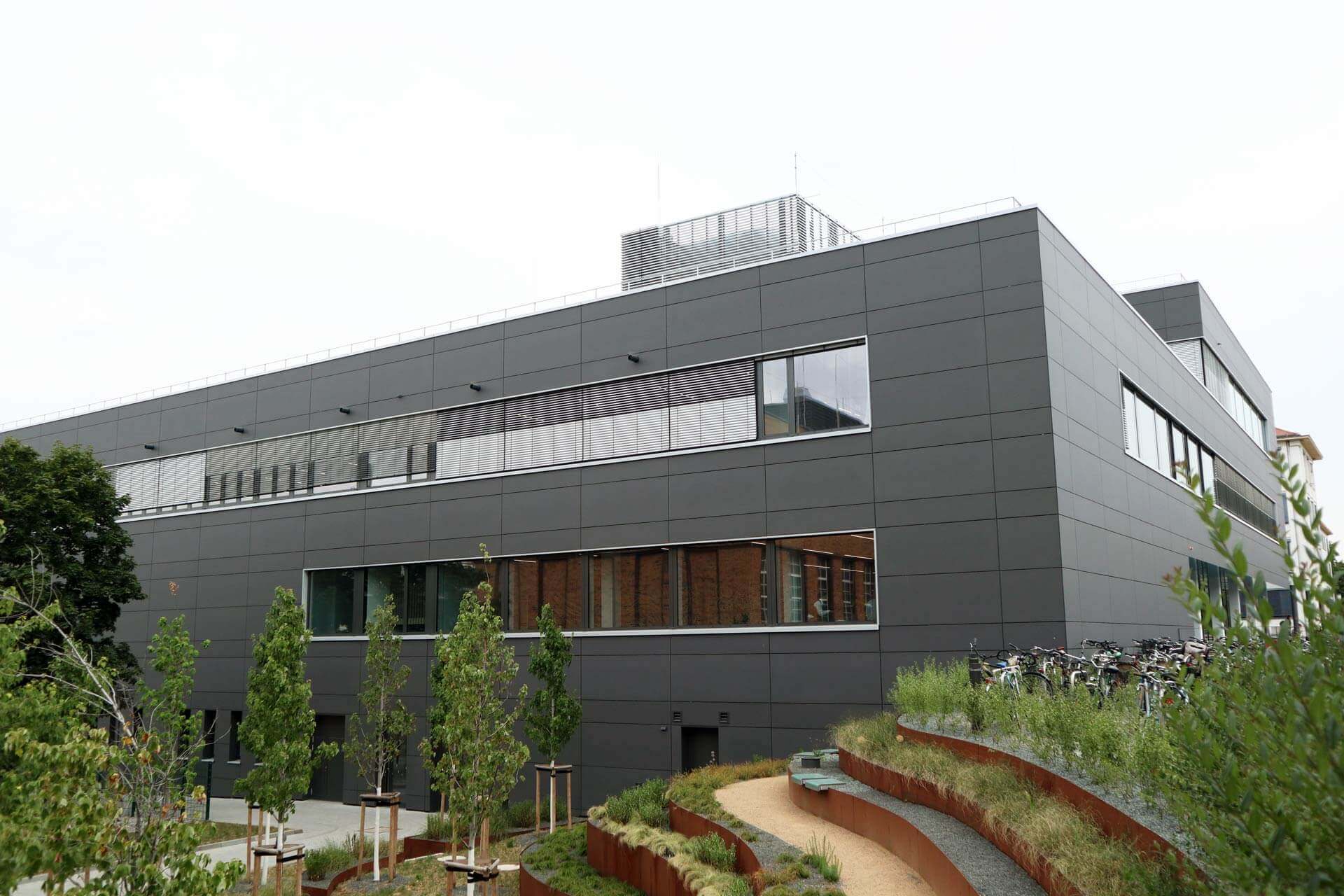 A warm introduction to the facility
Upon arriving at the "LernKlinik", we received a warm welcome by the student tutors as well as Dr. Rotzoll as the welcoming ceremony began to unroll.
The first speech was held by Prof. Dr. Josten, Dean of the Medical Faculty at Leipzig University. He elaborated how the new skills and simulation center came to life, and reiterated Dr. Rotzoll's important role in pushing this project forward, and thanked the public institutions helping to fund this new facility.
The second speech was held by Prof. Dr. Meixensberger, Dean of Medical Education. He introduced the architecture as a facility for coming generations of medical students to become more empowered in their studies.
The newly built facility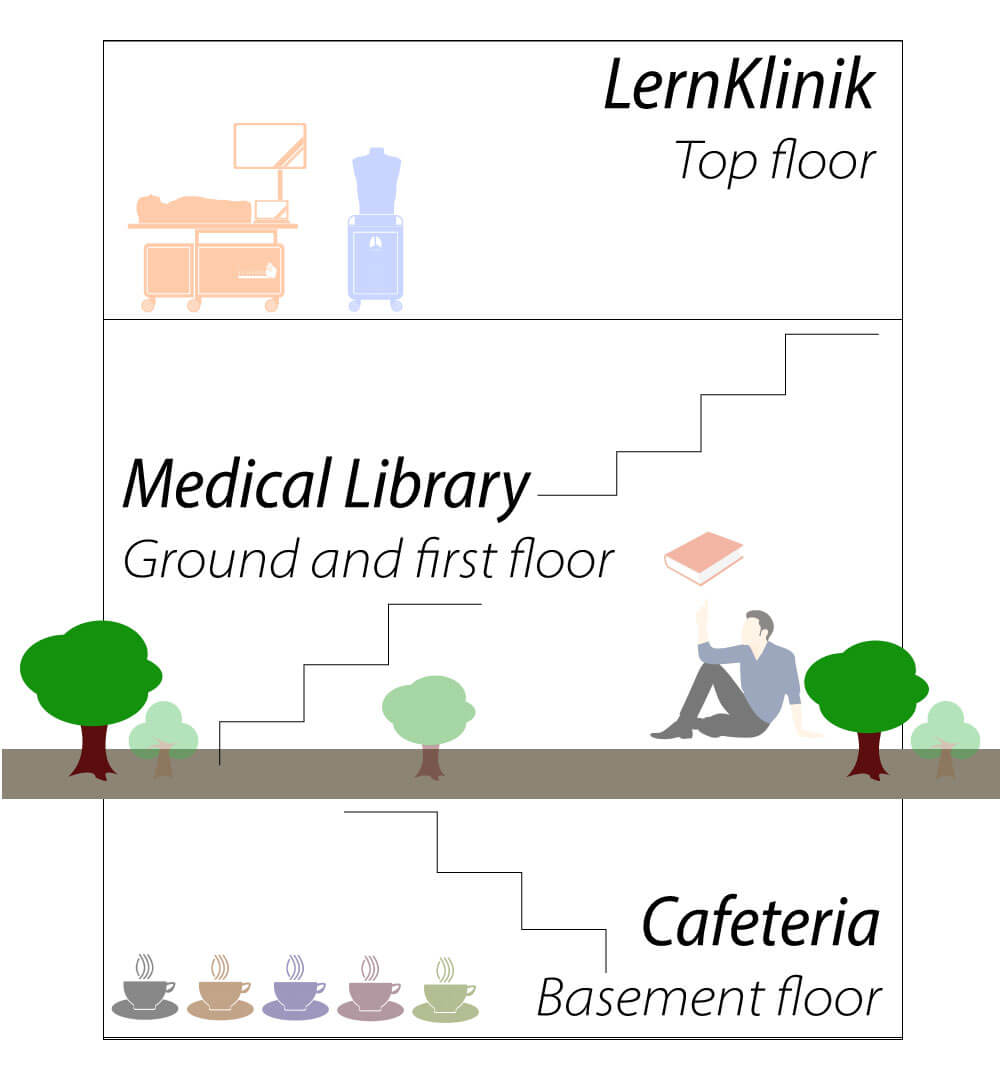 Top floor: Skills and simulation center with simulators and phantoms by Kyoto Kagaku

To put theory in practice

First and ground floor: Leipzig University's Medical Library with small group learning rooms, equipped with modern digital educational facilities

To deepen knowledge

Basement floor: A cafeteria in an open, glass-sealed basement

To relax and energize
The third welcoming speech was held by Dr. Schnabel, who is currently engaged at the Institute for Medical Teaching at Bern University and is an important figure for popularizing the concept of skills training and simulation in Germany. He reiterated the importance of centers like "LernKlinik Leipzig" for improving the quality of medical education in Germany.
To close the row of speeches, Dr. Rotzoll gave the guests a comprehensive overview how the skills training and simulation at "LernKlinik Leipzig" is incorporated in the curriculum, and how it benefits the quality of medical education for students and Leipzig University.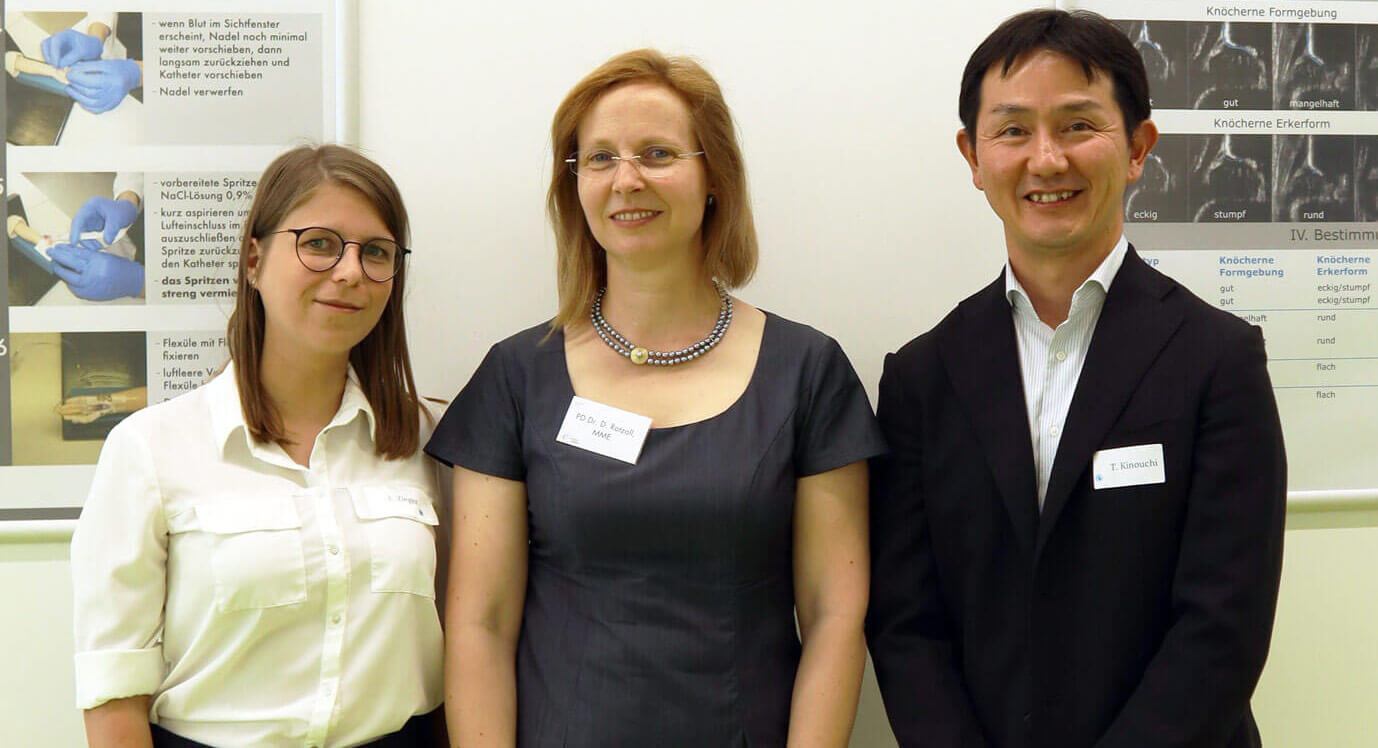 Following this session, the team of "LernKlinik Leipzig" kindly provided a light lunch for all attendees in the bright and open foyer of the center for a chance to chat and make new contacts. We were delighted to see two of our long-term partners, Luis Sommer from SOMSO and David Simanek from SkillsMeducation, who also attended this opening ceremony.
A taste of the "LernKlinik" experience
After lunch, all guests were able to participate in a 'hands-on' experience of "LernKlinik Leipzig", and had the chance to look at 5 training rooms and one surveillance room that features the audio-visual-system installed throughout the center.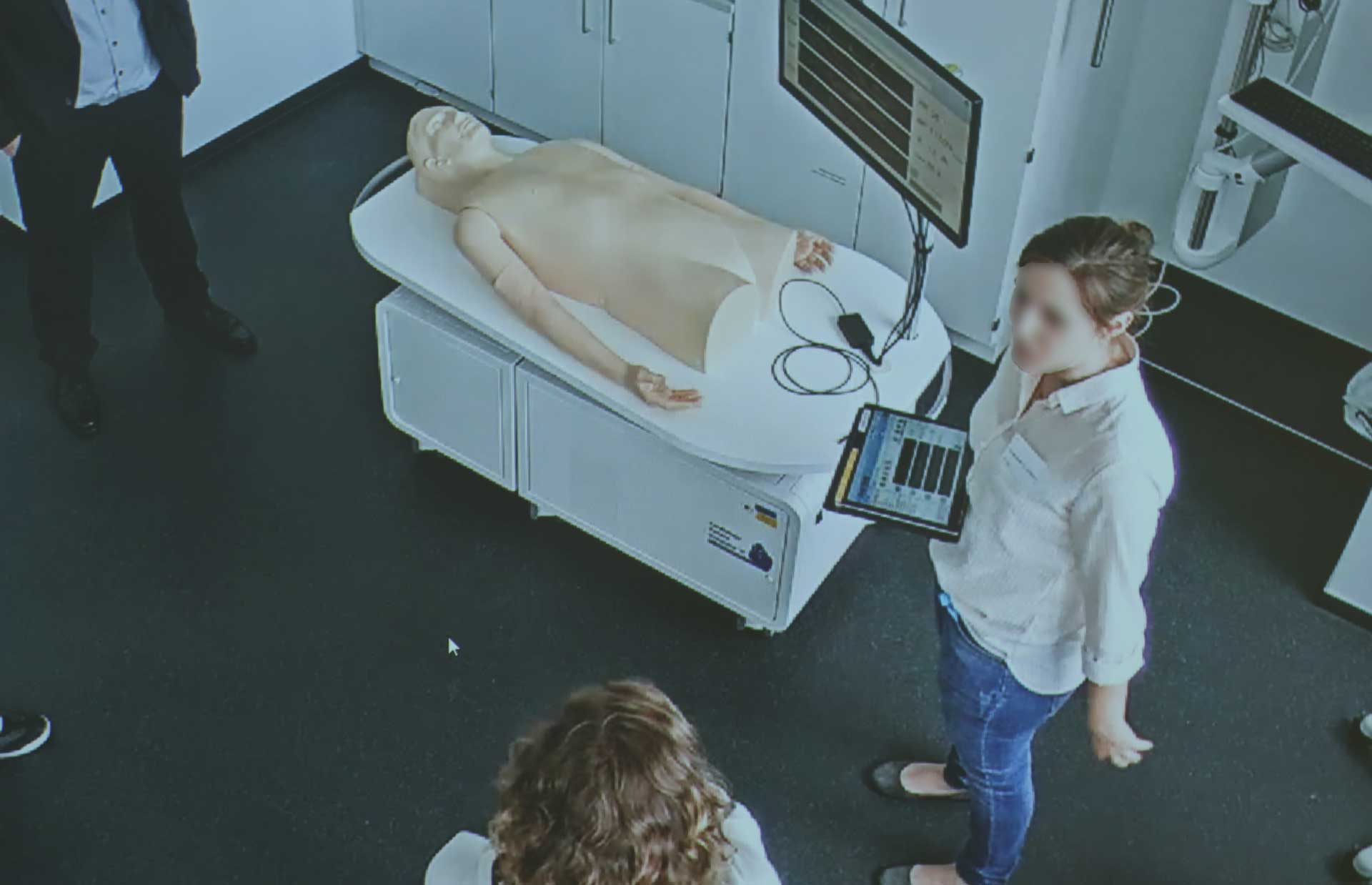 The parcourse we experienced was designed after a real OSCE scenario at "LernKlinik Leipzig", with a chime ringing after just a few minutes and everybody moving to their next station. Each station was curated by a tutor/student teacher who explained how the particular simulator of this station was used in teaching and its merits.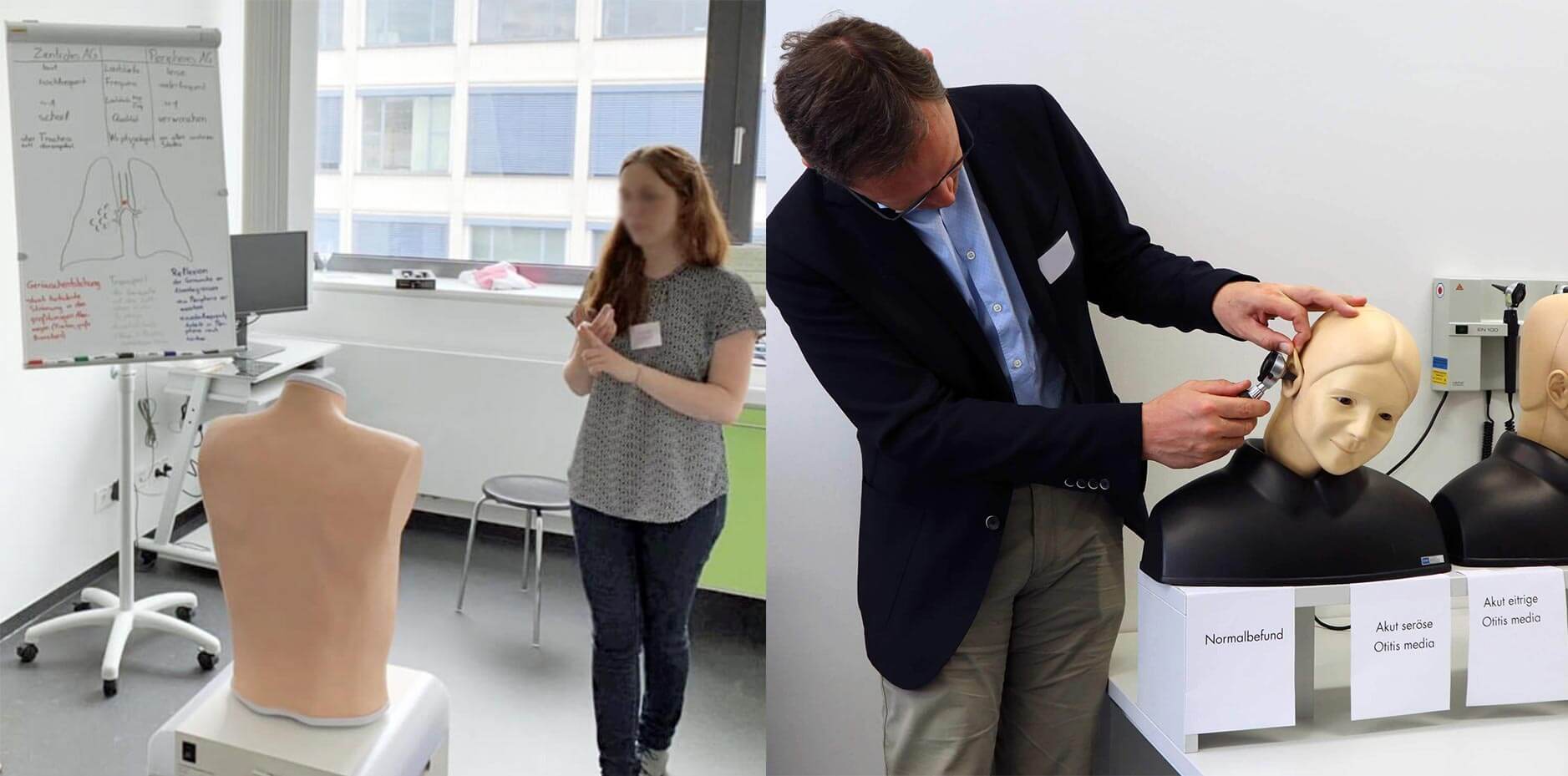 Many of Kyoto Kagaku's simulators and phantoms were displayed, such as:
The closing of the opening ceremony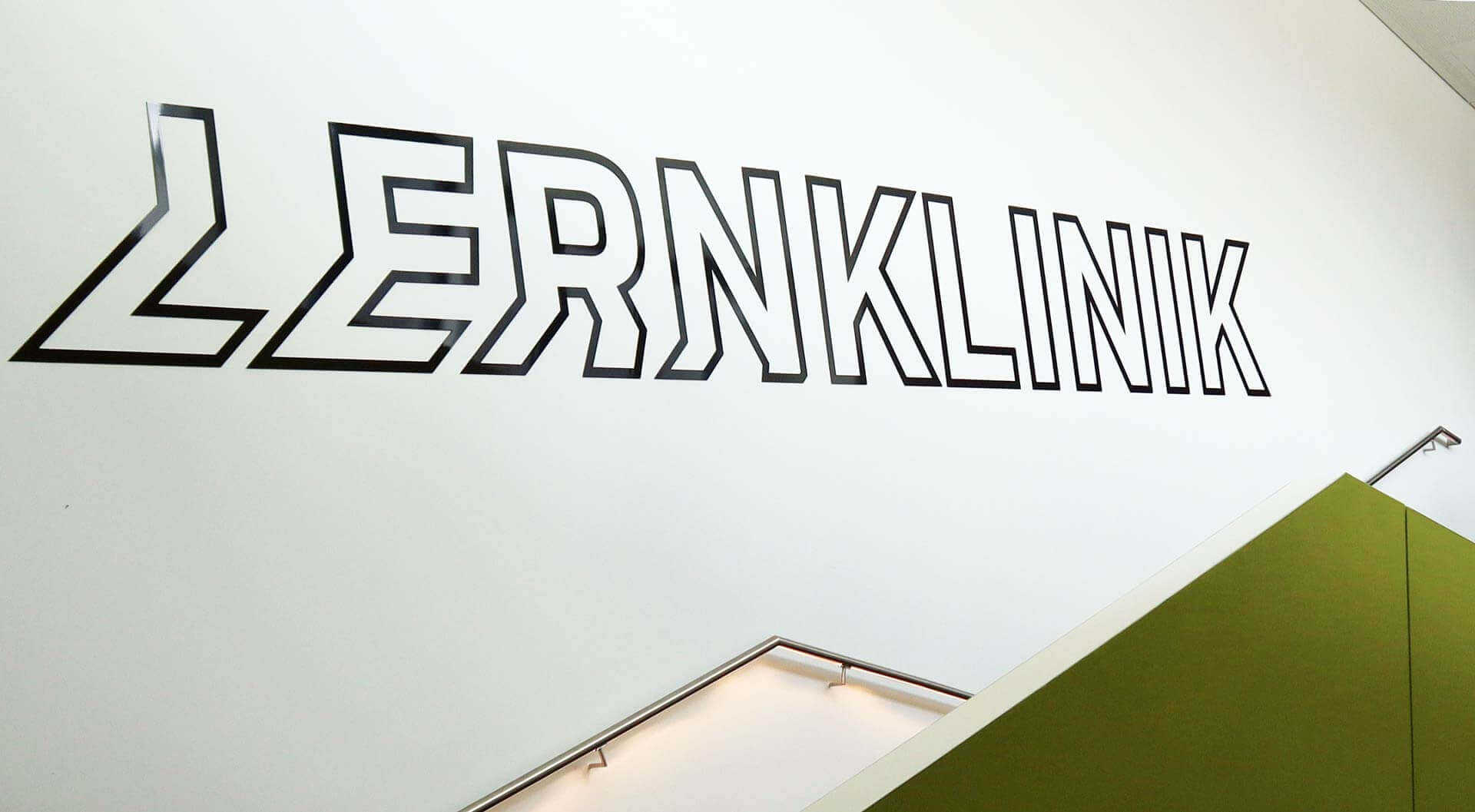 A time flew by while we circled through the new skills and simulation center in Leipzig, we reached our last station which coincided with the end of this opening ceremony.
It brings me joy to see that through this visit, I was able to experience the progression of simulation and skills training in medical education, and how it is gaining more and more importance in Germany.
Thank you Dr. Daisy Rotzoll and members of Leipzig University for inviting us for this wonderful experience.
Writer: Franziska Zieger

I was born and raised in Germany, and during High School I studied in Kagoshima, Japan and Moscow, Russia. Now, am happy to support our European sales team in Frankfurt.