REPORT
MEDICAL
SIMULATION
Report from AMEE 2019

What a lively long weekend!
On August 24th to 28th, The Association for Medical Education in Europe (AMEE) held its annual conference in Vienna, Austria. A total of 3900 guests from over 100 countries participated in this momentous event.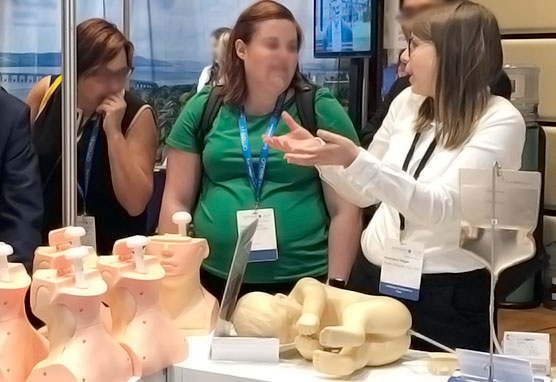 Guests having a hands-on experience with the simulators
The annual conference consisted of symposiums, presentations, workshops, research reports, exhibits, and so on. It was a busy but exciting event.
Poster presentation session
We were privileged to attend a poster presentation about the learning effects of tactile knowledge through palpation. The session was presented by professionals involved in the development of some of our newest simulators. These professionals include
Dr Takahiro Amano

, Academic Adviser and Professor of Medical Education


Tamerlan Babayev

, Assistant Professor of Medical Education

from the International University of Health and Welfare, Japan.
Professor Kyoko Arai

Akemi Matsuura

, Research Associate
from

School of Nursing, University of Shizuoka, Japan

.
Read all about it here:
Whilst showcasing the "AbdoAbby" Abdominal Examination Simulator as part of the presentation, the response from the audience was fantastic, and became the highlight of our day.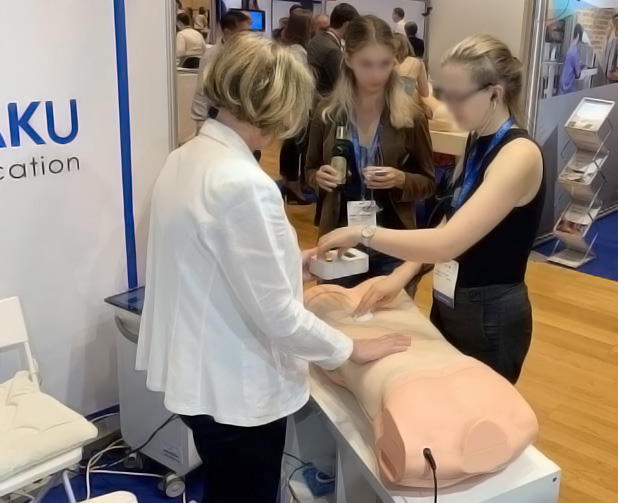 The Showcase
Aside from the poster presentation was our booth, where Dr Amano passionately explained how impressed he was at the realistic tactile sensation that "AbdoAbby" had to offer. In addition, however, visitors were also impressed with the other simulators on display.
The hype for a Thyroid Palpation Simulator with pathologies
Students and educators from around the world came to have a try at palpating the new our new Thyroid Palpation Simulator and they were not disappointed.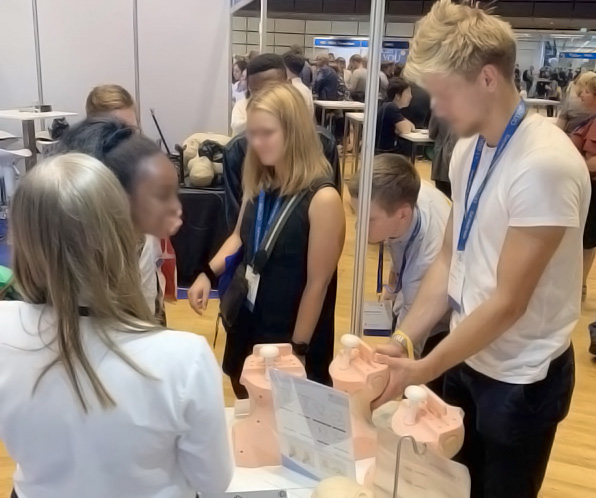 They were all very delighted to experience the realistic texture of the simulator's skin, the ability to simulate swallowing and the number of pathologies re-created for palpation. Many voices of how the visitors have been hoping for a simulator like this, as students until now had not been able to have many to opportunities to palpate a thyroid with pathologies.
Thyroid Palpation Simulator
A "popping" surprise!
A variety of lumbar puncture simulators have been well available for educators and trainees, but the response from the visitors during the event is what set the Lumbar Puncture Simulator II apart from others.
Visitors not only applauded on the realistic sensation of the skin, but when visitors tested the procedure on the simulator, they were also pleasantly surprised to experience the re-creation of the "pop feeling" during correctly performed lumbar puncture procedure.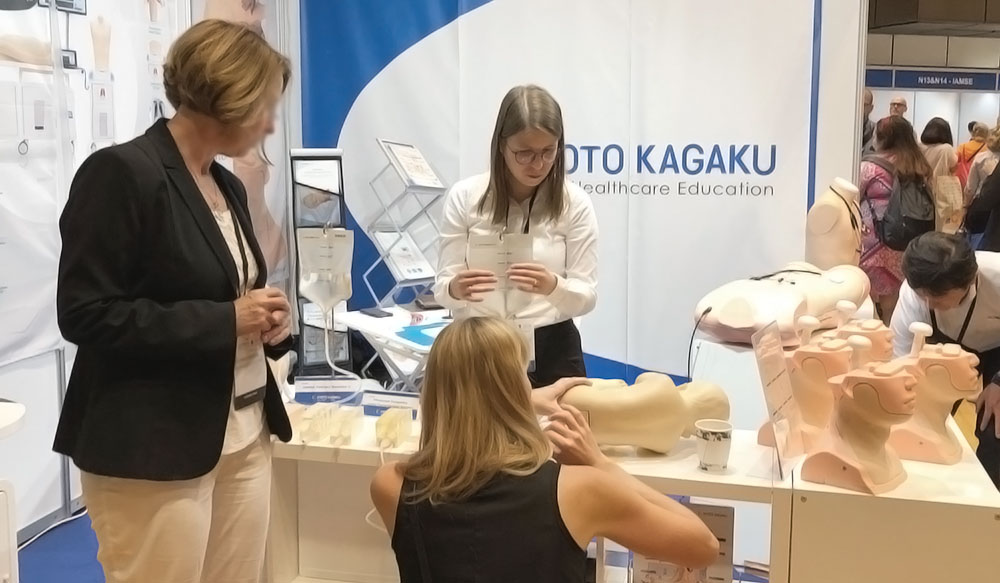 Guests having a hands-on experience with the lumbar puncture simulators
Many visitors from countries like Brazil, America, Taiwan, UAE, and so on, came just to get a hands-on experience of the simulators displayed. It was a fun and fulfilling experience to be able to meet all the guests that visited the booth during the event.
Other popular Kyoto Kagaku simulators displayed:
A word of thanks
It was an honor to meet Dr Amano, Professor Kyoko Arai, Associate Professor Babayev, and Research Associate Akemi Matsuura at this event. We would like to also send our words of thanks to EMK4 Medical, one of Kyoto Kakagu's distributor in Austria, for supporting us from the start and finish of AMEE 2019.

A portion of the large crowd gathered at AMEE 2019
Finally, we would like to thank The Association for Medical Education in Europe (AMEE) for hosting the event. We hope to participate again next time!
Writer: Takao Kinouchi

I've been engaged in business in Europe since 2011, and in January 2019 I opened the European office of Kyoto Kagaku in Frankfurt, Germany. From here, we will support users with distributors in each country.